Book a Room
We take care of your holidays,
with us you will find a friendly and familiar environment.
We will accompany you from the information
request to the booking confirmation.
From arrival to departure we and our Staff
will be your point of reference
for any need and requirement.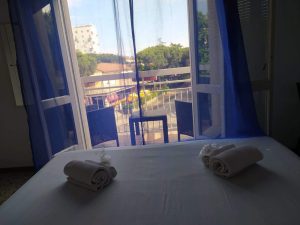 Rooms
Hotel Otello has 30 rooms of different types: single, double, triple and quadruple, furnished in a simple and functional way, with recently renovated bathrooms.
In all rooms you will find:
Private bathroom with shower
Terry towels
Courtesy set
Tv LCD
Telephone
Free Wi-Fi
Independent air conditioning / heating
Hairdryer
Some rooms also have a balcony.
We inform you that the data you provide will be processed electronically in compliance with the principles established by current legislation on data protection (EU Regulation no.679 of 2016) for the sole purpose of providing you with the requested information. The complete information on the methods and purposes of the treatments carried out is accessible through the link PRIVACY.
By filling in and sending the data from the form, you are consenting to the processing of your data by Hotel Otello di Medri Daniela in accordance with the aforementioned legal dictates.